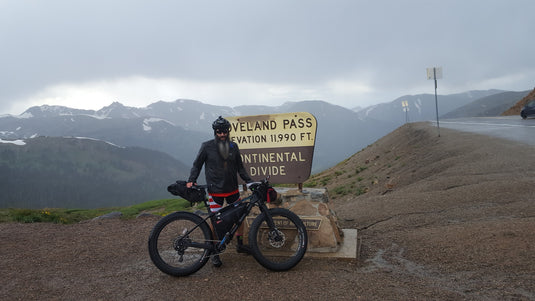 Where it all started...
circa 2015...
Scott Sumpter, creator of BIKEOWA.com, was participating more and more in gravel and fat bike endurance races as well as some bikepacking, training and exploration rides.
This was the Pre-Pogie Lite era. Races in inclement weather were common and occurred in all 4 seasons. We lived like caveman back then ;)
The overnight riding hours produced quite the chill. Gloves would get wet and muddy. Hands would either be too sweaty, too cold, too dirty and/or too wet. Other Pogies were overkill (too warm, too big, too stiff).
Scott was an avid user of pogies, but knew there had to be something better...
The Dawn of Something Better
May 2016 - Almanzo 100 - Spring Valley MN - Pre-Pogie Lite era
It rained all night. It was raining when the race began. Temps were in the 50s. The rain was cold. Winds were light, but 10-20 mph gusts were common mid-race.
50% of the field dropped most from from hypothermic conditions that day.
Scott was used to the wet and cool conditions from racing Trans-Iowa a month before. He started well-bundled up and used Bar-Mitts on his Fatbike.
Scott finished, yet still with bone-chattering shivers.
The seed was planted....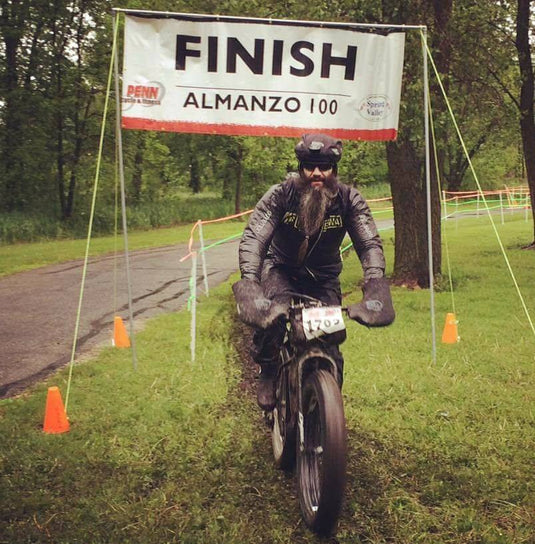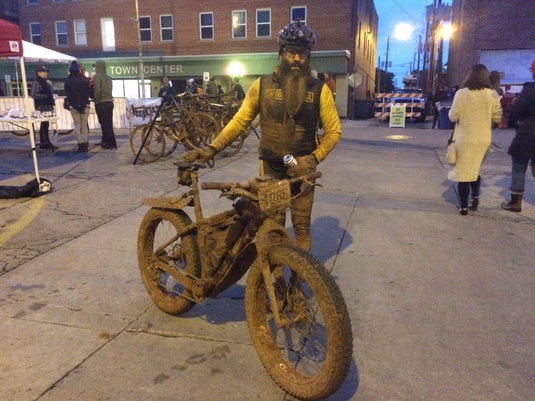 The Red Dirt of Landrun 100
March 2017 - Landrun 100 - Stillwater OK (nka the Mid South) - Still Pre-Pogie Lite era.
Psych! The Friday pre-ride was sunny and 70 degrees. Then it ended up raining all night.
Saturday morning was real wet, yet Scott felt if was too warm for Pogies (bad call).
Half the field dropped from all the mud, and broken derailleurs.
More Red Dirt...
The red dirt of central Oklahoma is relentless. It's so fine and abrasive, yet so slick and it sticks to everything like river-mud.
Scott finished with 1st place in the Fat Bike category, but at a cost.
This ended up being the most expensive race Scott had ever competed in. Brakes, calipers, brake levers, bearings, bottom bracket, zippers, his GPS and even his RX Oakley lenses were all shot, non-functioning or scratched so bad they all had to be replaced from the abrasive fine red dirt of Oklahoma.
The kit he wore that day still has a red-dirt tinge to it!
The nail in the coffin... Get those creative juices flowing.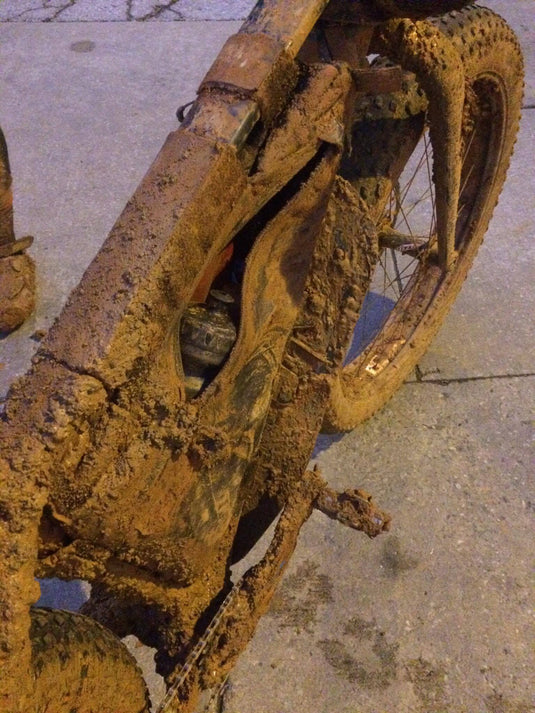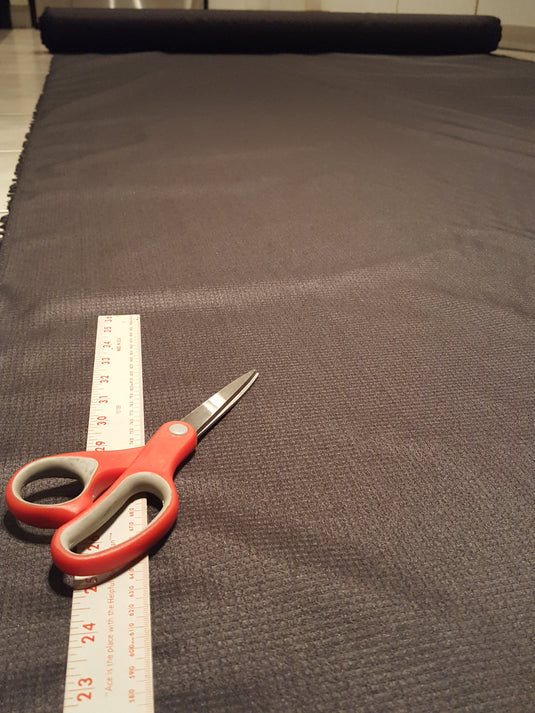 Let's Do This - Pogie Lites V1.0
March 2018
We weren't sewists or inventors. We had full-time jobs, plus running BIKEIOWA on the side, plus training, racing and hosting events.
Scott couldn't find what he wanted. He wanted a pogie that was lighter weight, flexible and packable.
He didn't want to be locked into one hand position.
He wanted one set of pogies to fit on all his bikes.
~~~
Scott's prior wet and rainy races and training rides offered some great insights to what features he desired in a new pogie.
Many visions, sketches, paper models, ty-vek prototypes and brainstorming sessions led to a usable test version made with some water-resistant rip-stop denier material.
Hey - Let's call them "Pogie Lites".
What made Pogie Lites different from other Pogies?
March-May 2018
Simplicity for the win. We settled on a single-walled wind-breaker for your hands. They were super-simple, yet complex at the same time.
They fit on drop bars (hoods & drops as well as straight bars and Jones Bars.
You could shift AND brake over the top of the Pogies.
If you didn't need them, you could roll them back on your bars or pack them in your jersey pocket or frame/feed bag. See more on our "Temperature Control" FAQ.
They were the "right" size. Small enough to not flap in the wind yet big enough to accommodate most handlebar controls and big-boy hands.
We were onto something...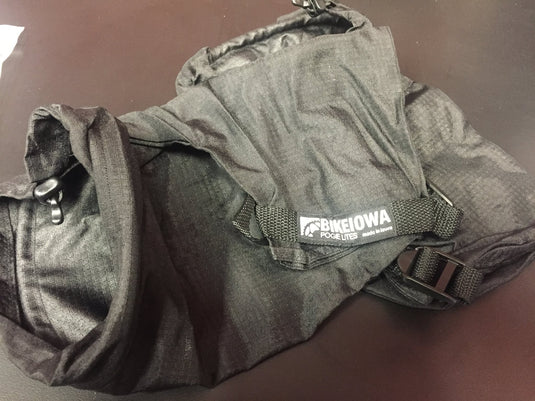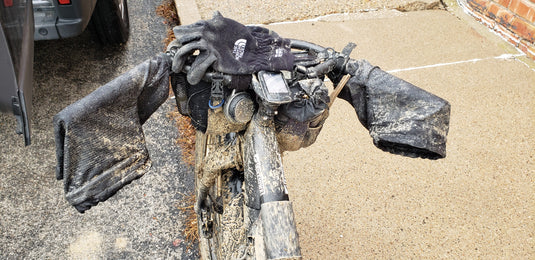 Did they work?
2018
Scott tested and tested... He rode in cold rain, warm rain, muck, snow and even on nice sunny days.
He tested the shape. The size. The packability. The durability. The usability. The practicality.
A few modifications were made, then more testing...
Q: How did they work?
A: They performed WAY better than expected!
More cowbell.
Fall 2018 - 2019
Word was getting out.
Scott and friends were using Pogie Lites in a wide array of riding styles and temperatures from -10 ° snowstorms to +80 ° July rains.
Cyclists were commuting and training with them daily. Pogie Lites were taken on the Tour Divide, and several other bikepacking and endurance adventures.
They were a hit!
The BIKEIOWA crew of two began producing Pogie Lites several nights a week from the comfort of their home's kitchen and work-out area.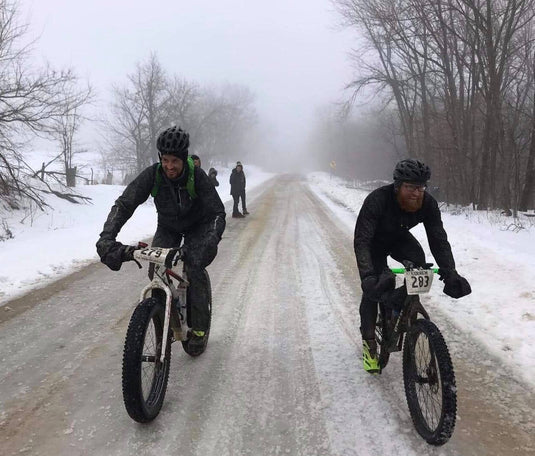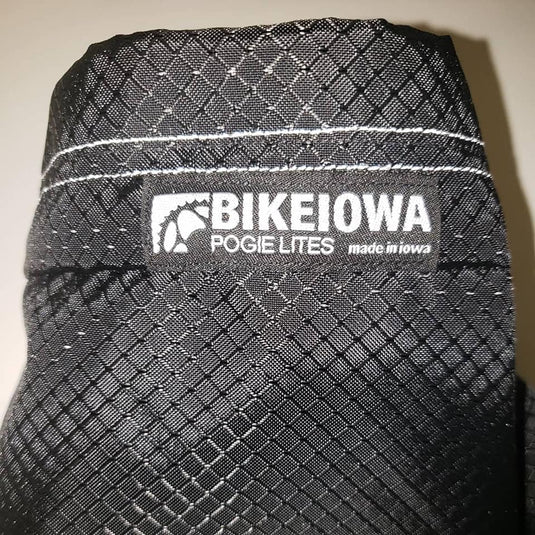 We didn't create the Pogie, we made it better (for us).
Pogies have been around for decades.
They were used for kayaking, dog-sledding, snowmobiling, ATVs and motorcycles.
Then the cyclists in Winter Ultra races started using them and they worked their way down to smaller versions used by commuters and recreational users.
Almost every other pogie on the market limits your hand positions, or they only fit on one style of handlebars and they are very bulky and over-insulated.
And NONE fold up to the size of a beer can.
Pandemic Production
Mar 2020 - 2021

What do you do in a global pandemic? You ride along a lot.... and SEW Pogie Lites. We turned lemons into lemonade...
By December 2020 Pogie Lites were in 30+ states and 15 countries.
They worked well and word of mouth spread.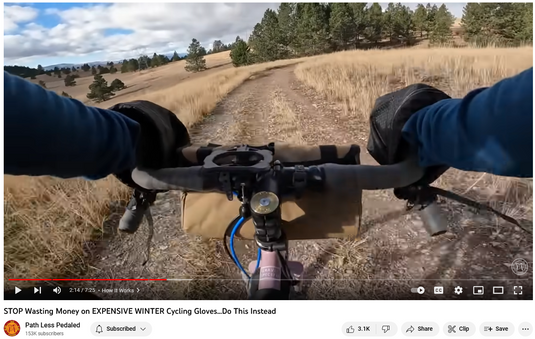 Path Less Pedaled
Nov/Dec 2021

Pogie Lites were still a super-small niche product and we were still making them at night an weekends and we could barley keep up.
Then, YourTube influencer, Russ Roca from Path Less Pedaled did and review of them, liked them and they made his "Favorite Gear of 2021" list which was super-cool and super-scary as he has a world-wide following.
Our orders spiked for a couple months. We ramped up production and pretty quickly Pogies were sold in all 50 states and 30 countries.
Supply and Demand
2021-2022
When the world went back to "normal" so did our jobs and time commitments.
We ran into global supply chain issues and couldn't get fabric and hardware for months.
We couldn't fill the demand and we let folks know.
We started a waiting list and started working from that and showed Pogie Lites as "SOLD OUT" on the website.
Eventually we stopped production on March 21st 2022 due to lack of time and supplies.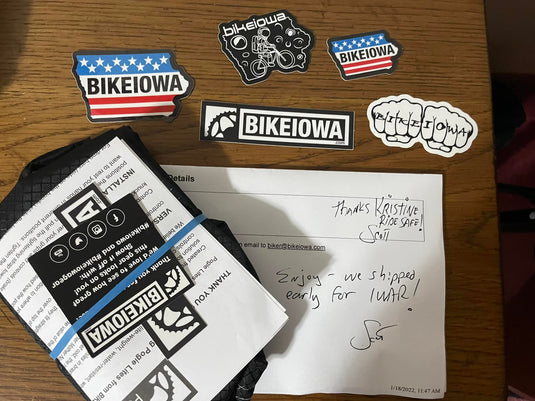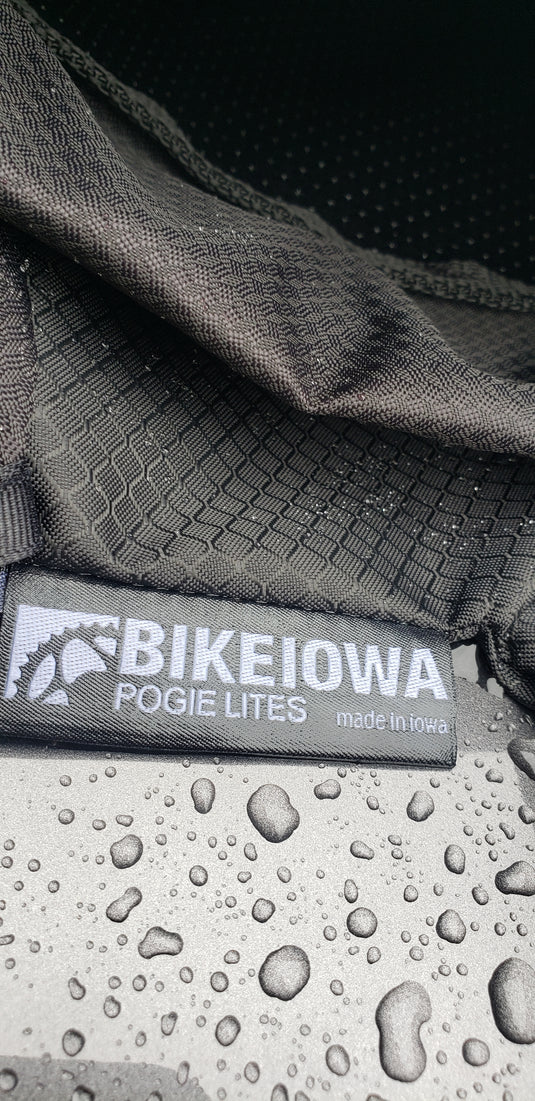 Passion and USA Production
Late 2022- early 2023
We didn't start making Pogie Lites with the intention for mass production. All Scott wanted was warm hands during his races.
But, it is pretty cool to see a product you created being used on the Tour Divide, in Europe, South America, Ukraine and even watching your neighbor commute with them. It's now a passion project.
Scott was already working on some improvements and started V3.0 prototypes.
In late 2022 we reached out to several textile and contract sewing companies inquiring about sourcing and production.
We insisted they be "Made in the USA". We knew that would come at a cost and limit our options, but that was important to us.
Less than half of the textile companies didn't even respond, and all the small cottage-industry bag makers we contacted couldn't keep up with their own demand let alone help us make Pogie Lites.
V3.0 is real
early 2023
We finalized V3.0 and got a few pair out to some testers for feedback. They LOVED the changes and improvements!
We were able to source fabric and hardware again and started small-batch sewing again.
In Jan 2023 we started working with a local Iowa company sourcing materials and making prototypes.
The progress is positive, but mass producing a product doesn't happen overnight.
We'll ramp up production on a small scale, plus we'll still be sewing too.
We'll work our way down the waiting list and eventually be able to offer them back online as an in-stock store item. We cannot estimate that timeline at this point.
Yes, you can still add your name to the waiting list.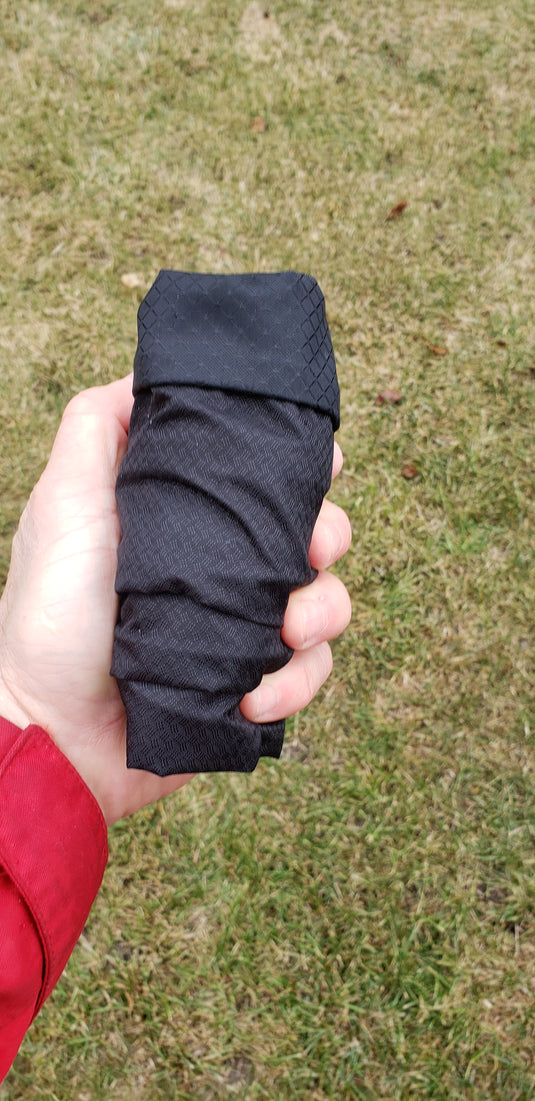 THANKS
2023
Thanks to all those have tested, been early-adopters and pushed to make Pogie Lites a valuable, viable and useful cycling product.
Thanks to Russ at Path Less Pedaled and our other reviewers for expanding our reach.
We are thankful we can make a product that is "Made in the USA" and even more importantly "Made in Iowa".
Thanks to YOU for using Pogie Lites and if you don't have a pair now, they are just a click away!
RIDE SAFE & KEEP WARM !!

Scott Sumpter

BIKEIOWA.com founder. Pogie Lite creator, user, innovator, dreamer and believer.
from the maker
CREATOR REVIEW
Scott Sumpter talks Pogie Lites after 10.5 hours on the fat bike in single digit temps, 15 mph winds with a negative wind-chill at the Triple D Winter Ultra Race in Dubuque IA on Jan 19th 2019 ---
"They performed flawlessly! The Key is temperature regulation. When you feel your hands getting too warm, pull them out of the pogies, and when feel a slight chill, put them back in.
Doing this eliminates sweaty gloves which leads to demise over time. The cool thing about Pogie Lites is that you can shift AND brake with your hands on the outside of the pogies giving you control of the bike in gnarly situations - a feature not seen in any other pogie."